SIGNIFICANT PREJUDICES TOWARDS ETHNIC AND RELIGIOUS MINORITIES REMAIN IN BRITAIN
Major progress has been made in combating racism since the murder of black teenager Stephen Lawrence 20 years ago, but significant prejudices towards ethnic and religious minorities remain, a survey reveals.
The number of Britons who now say that they believe black and Asian people face substantial discrimination has almost halved compared with figures from 1991. But while a majority indicate that they would have no issues with neighbours, managers, medical professionals or political leaders from different ethnic backgrounds, there is still some social resistance.
The results of the survey, from the thinktank British Future, are published as Doreen Lawrence, Stephen's mother, says in an interview to mark the anniversary of his murder at the age of 18 in 1993 that she does not believe she will live to see a black man or woman become prime minister.
Lawrence, who campaigns for improved race relations, tells theObserver: "I don't think we would give them the opportunity. They would never think you good enough, not really."
British Future's survey, part of a project entitled 20 Years On: Stephen Lawrence, has found a positive shift in attitudes towards black and Asian people in the last two decades. Less than a quarter (24%) of those polled said they felt there was a lot of discrimination towards black people, compared with 40% in 1991 for the British Social Attitudes survey. More than a quarter (29%) of people think there is a lot of prejudice towards Asian people in 2013, compared with 58% in 1991.
However, despite evidence of growing tolerance within British society, the survey found some stubbornly entrenched prejudice about the ethnic makeup of the political classes.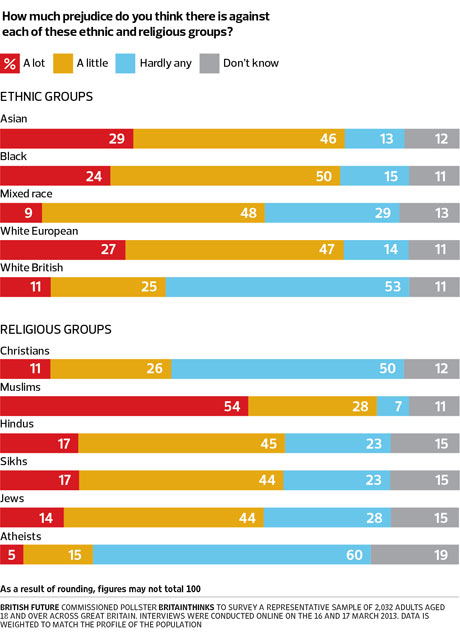 Source: British Future's race relations survey. Credit: Guardian graphics
Nearly a quarter of people (22%) could not say that they would feel comfortable with their local MP being of a different race to them, although almost three-quarters of those simply said that they were not sure about how they would feel. The survey found that 8% would be uncomfortable with the notion, a higher proportion than those who would feel uncomfortable if their colleague (4%), a police officer (5%) or their child's teacher (5%) was of a different race.
However, there was a more significant result when people were asked how they would feel if the prime minister were of a different race to them. Nearly a third (31%) said they either did not know how they would feel or were uncomfortable with the idea. More than two-thirds (68%) were comfortable.
The number of MPs from an ethnic minority community doubled in 2010 from 14 to 27, around 4% of the House of Commons. There have only been a handful of top-ranking black or Asian politicians since the first black cabinet minister, Paul Boateng, was appointed in 2002.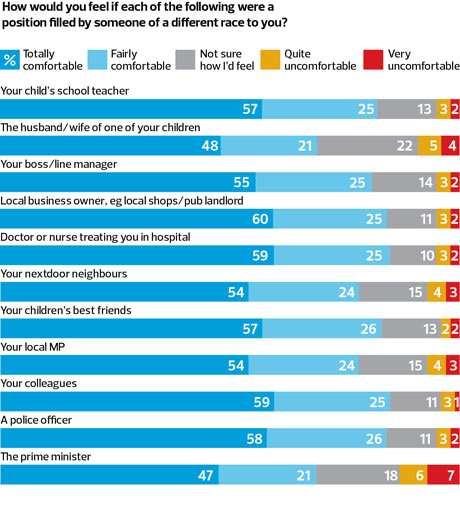 Source: British Future's race relations survey. Credit: Guardian graphics
Lawrence, who runs a foundation to implement the recommendations of the 1999 Macpherson report into her son's death, said the cause of racial equality was being hindered by politicians blaming immigration for the country's ills. "Immigration policy has to be fair, but you have to keep making the arguments against that blame culture," she said. "We need younger people to be taking up the battle for these issues. I went over to Washington for President Obama's first inauguration. It was something I never expected to see in my lifetime, a black man running a country like the US. I needed to be there to witness it, one of the two million.
"I don't think I will ever see it happening here, though. There are plenty who could do it, but I don't think we would give them the opportunity."
Lawrence added that she had been disappointed by the coalition government's cuts to funding for her foundation and its attitude to race equality. "This government could have built on Macpherson and they haven't," she said. "When my son was murdered, the Conservatives were in power and they did nothing. And it seems in coalition now they still don't do anything. I have not met David Cameron in the way that I met [Tony] Blair and [Gordon] Brown."
Doreen Lawrence says the cause of racial equality is being hindered by politicians blaming immigration for the country's ills.
Nevertheless, Sunder Katwala, director of British Future, said the results gave reason to hope that the country was becoming a more tolerant place. "Within the last half century, within the lifetime of many people, a mainstream political party candidate was elected [in 1964] [supported by] a slogan against people who 'want a nigger for a neighbour'," said Katwala.
"Even as late as the 1980s, a majority of British people would have been worried about their child marrying across ethnic lines. Again, this has diminished to single figures (9%). Britain is a fairer and less racist society than it was 20 years ago."